Document the high quality standards of your solar thermal products with the Solar KEYMARK
Solar thermal systems convert solar radiation into heat and thereby make an important contribution towards avoiding fossil fuels. Demand for cost-saving and sustainable thermal systems is great, but the market is growing increasingly. DIN-Geprüft and Solar KEYMARK certifications are important reasons for your customers to choose your products.
We test and certify your thermal solar products for their performance, reliability, safety and usability. If they comply with the standards, you will be awarded two quality marks that demonstrate product quality and are recognized throughout Europe: "KEYMARK" and "DIN-Geprüft." Our certification is suitable for a variety of products:
solar collectors (flat plate collectors, tube collectors, PVT)
prefabricated or custom solar thermal systems
storage water heaters
control equipment for solar thermal systems
The Solar KEYMARK certification unifies European quality standards and allows you to access the European market. Our certifications make it easier for planners, installation technicians and consumers to choose to purchase your quality products.
Want to mark your products with the Solar KEYMARK European quality mark? Contact our experts today!
Secure the confidence of European customers with testing and certification for your solar thermal products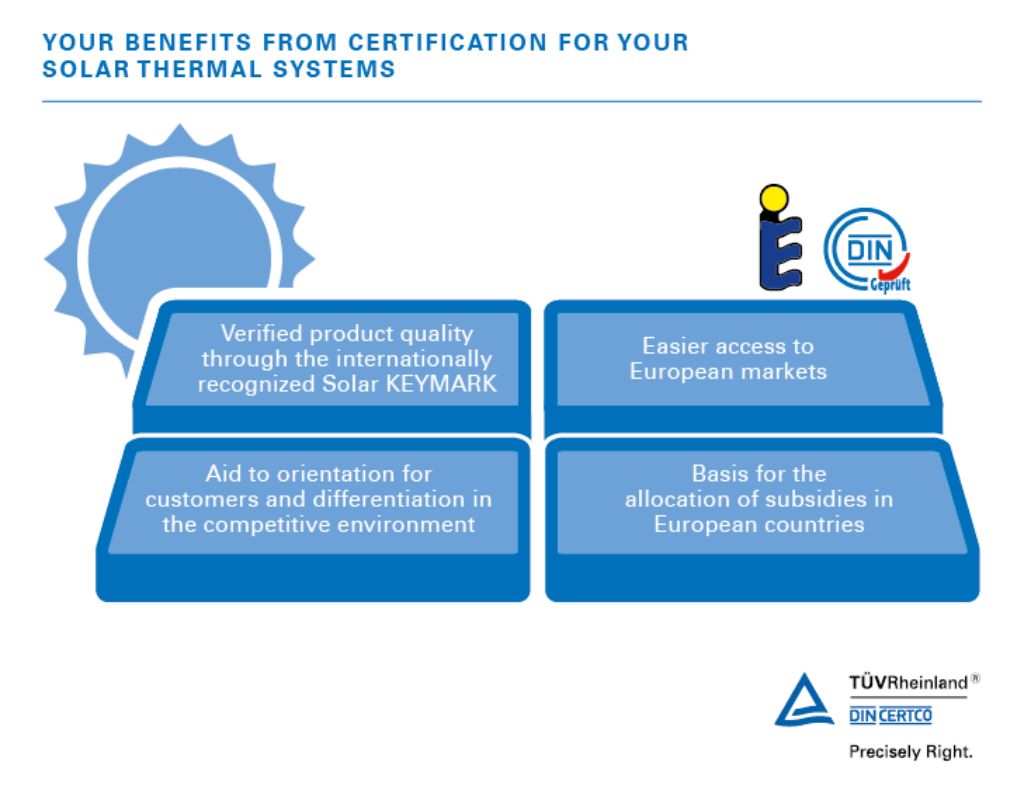 Strengthen your customers' and business partners' trust by asking us to certify your solar thermal products. Our two neutral and internationally recognized test marks highlight this difference for your customers and offer them a valuable aid in decision-making in a constantly growing market. Certification is the basis for the awarding of subsidies and the improved sales opportunities they bring. This will help you stand out in the competitive environment.
Solar KEYMARK certification testing criteria for your solar thermal products
The certification program was developed with the involvement of manufacturers, test labs, certification bodies and the European Solar Thermal Industry ( ESTIF ). The Solar KEYMARK and "DIN-Geprüft" certification mark are issued in line with the following European standards:
The manufacturer must also perform product-specific manufacturing product control under consideration of the elements of standards series EN ISO 9000.
Quality criteria for testing solar panels:
Internal pressure resistance, mechanical resistance and impact resistance
Resistance to high temperatures, to internal and external thermal shocks, and to heat output
Exposure and rain-resistance
Additional tests for thermal solar plants:
Suitability for drinking water
Frost resistance and over temperature protection
Return flow protection
Pressure resistance
Safety equipment
The Solar KEYMARK certificate is valid for five years and can be extended by another five years upon application. The extension will be granted only if factory inspections are performed every year and physical inspections every two years. Once you have passed the certification, you can mark your products with the Solar KEYMARK and the "DIN-Geprüft" mark.
Your neutral partner for Solar KEYMARK certification
With our experienced experts, we are the right partner to provide neutral testing and certification for your solar thermal products. With the internationally recognized Solar KEYMARK and "DIN-Geprüft" test marks, you can stand out from the mass of providers and sell the quality of your products throughout Europe with a standardized quality mark. Our database lists you as a certified business and allows the latest technical data for your product to be viewed.
Want to know more about testing and certification for your solar thermal products? Contact our experts now!
FAQ – frequently asked questions about certification for solar thermal products
Would you like to know more about testing and certification for solar thermal products? We have answered the most common questions below.
Your question was not answered? Contact us now – we will tell you all about solar thermal systems.
General Documents
| | | | |
| --- | --- | --- | --- |
| pdf | Application form Solarthermal products | 180 KB | Download |
| pdf | Schedule of fees - Solar thermal products | 226 KB | Download |
| pdf | General Terms and Conditions | 326 KB | Download |
| doc | Report of Alteration of the Product | 186 KB | Download |
| pdf | CEN CENELEC – Internal Regulations Part 4 – Certification (THE KEYMARK SYSTEM) | 459 KB | Download |
| pdf | FAQ – solar thermal products certification | 212 KB | Download |
| pdf | Brochure KEYMARK (DIN CERTCO) | 885 KB | Download |
| pdf | Brochure Solar KEYMARK (DIN CERTCO) | 457 KB | Download |
| pdf | Brochure Solar KEYMARK (CEN) | 373 KB | Download |
Solar KEYMARK Scheme Rules
| | | | |
| --- | --- | --- | --- |
| pdf | Solar KEYMARK Scheme Rules (2020-06) | 611 KB | Download |
| docx | Annex A1 Factory inspection report | 40 KB | Download |
| docx | Annex A2 Physical inspection report | 28 KB | Download |
| pdf | Annex E FPC | 418 KB | Download |
| pdf | Annex P Collectors EN 12975 - P1 General | 378 KB | Download |
| pdf | Annex P Collectors EN 12975 - P2 Technical documentation | 109 KB | Download |
| pdf | Annex P Collectors EN 12975 - P3 Correction and interpretation file for the standard | 154 KB | Download |
| pdf | Annex P Collectors EN 12975 - P4.2 Manual Aircow | 3 MB | Download |
| xlsm | Annex P Collectors EN 12975 - P4.3 Datasheet AirCow | 876 KB | Download |
| pdf | Annex P Collectors EN 12975 - P5.1 PVT | 388 KB | Download |
| pdf | Annex P Collectors EN 12975 - P5.2 Coloured Glass | 612 KB | Download |
| pdf | Annex P Collectors EN 12975 - P5.3 Exchange rules for insulation | 974 KB | Download |
| pdf | Annex P Collectors EN 12975 - P5.4 Hydraulic Designation Code | 705 KB | Download |
| pdf | Annex P Collectors EN 12975 - P5.5 In-Situ Collector Certification | 404 KB | Download |
| xlsx | Annex P Collectors EN 12975 - P5.6 Calculation Kd ISO 9806 | 45 KB | Download |
| pdf | Annex Q Systems EN 12976 - Q1 General | 354 KB | Download |
| pdf | Annex Q Systems EN 12976 - Q2 Technical Documentation | 139 KB | Download |
| pdf | Annex Q Systems EN 12976 - Q3 Correction File | 166 KB | Download |
| xlsx | Annex Q Systems EN 12976 - Q4 Datasheet | 685 KB | Download |
| pdf | Annex R Systems EN 12977 - R1 General | 133 KB | Download |
| pdf | Annex R Systems EN 12977 - R2 Technical Documentation | 150 KB | Download |
| xlsx | Annex R Systems EN 12977 - R4.1 Datasheet Store | 96 KB | Download |
| xlsx | Annex R Systems EN 12977 - R4.2 Datasheet Controller | 77 KB | Download |
| pdf | Annex R Systems EN 12977 - R5 Application of ST software for EN 12977-2 system simulations | 155 KB | Download |