Strengthen the Trust of Your Customers – with Our FSC® Certifications for Your Forest Management or Chain of Custody
The environmental awareness of end consumers and in the industry and economy is growing, leading to an increased demand for wood products from responsible sources. But for the customer it is often difficult to trace the origin of products and the way the forest was managed or to recognize wood-based materials from responsibly managed forests.
Responsible forest management can be verified by a FSC® Forest Management Certification. The management of your forests will be assessed according to the FSC® principles and will be certified upon successful compliance with the criteria.
With a FSC® Certification you also demonstrate to your customers that you care about the chain from the management of the forest to the finished wood product. We offer certification for all stages of the product chain (chain of custody) from the certification of forest areas to the final product.
Secure your competitive edge now and contact our experts about your FSC® Certification.
Demonstrate the Use of Responsibly Produced Raw Materials you're your Environmental Awareness – with Our FSC® Certifications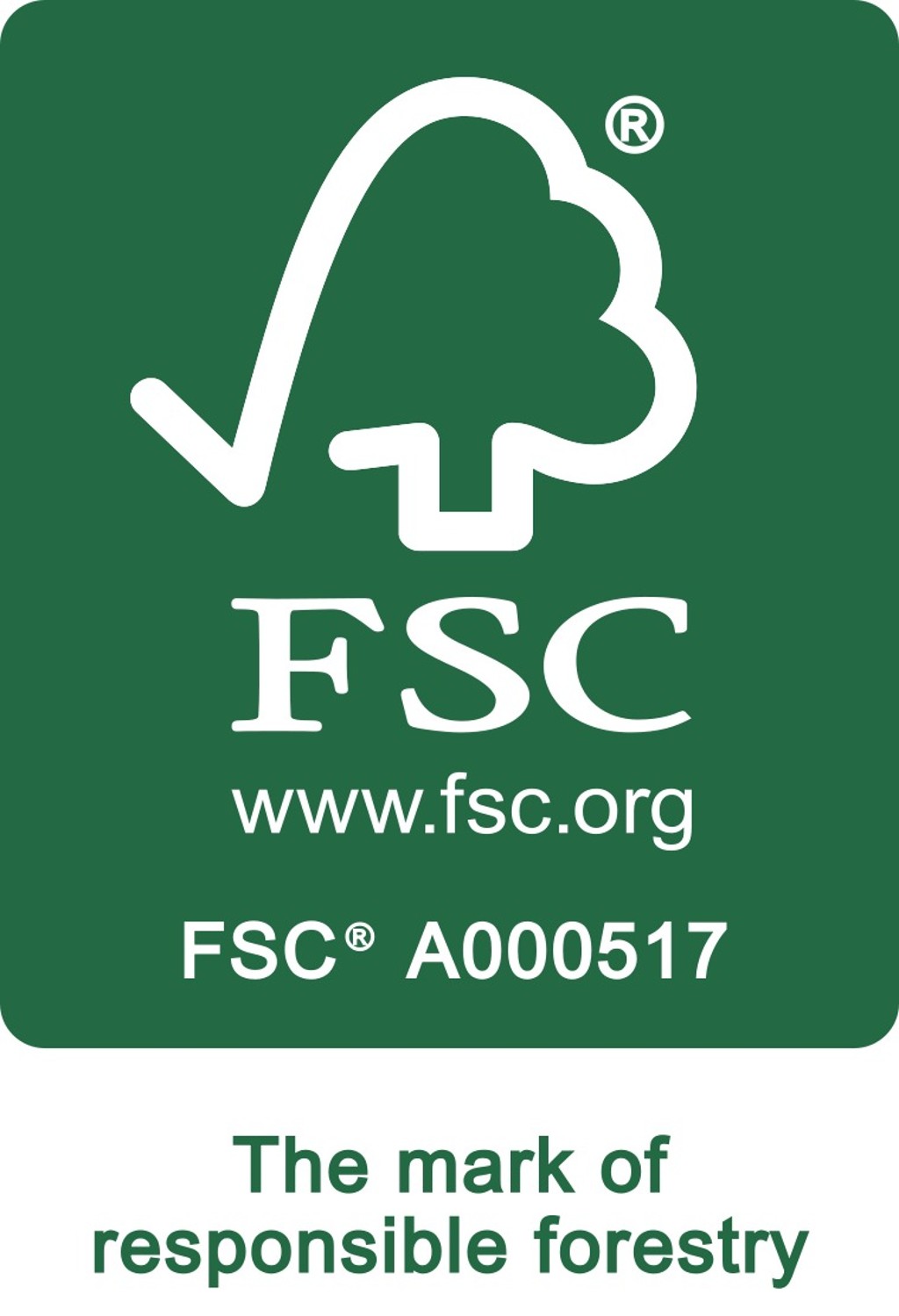 In order to label your goods with a registered FSC® logo or to sell them as FSC® certified products, as a member of a production and commercial chain you will need a FSC® Chain of Custody Certification. As a forestry business, a FSC® Forest Management Certification gives you the opportunity to document your responsible management of the forest. This way you can demonstrate the use of responsibly manufactured raw materials for the production of your products along the entire production and retail chain – a clear advantage over your competitors.
In addition, all holders of a FSC® certificate issued by us are entered into our data base and are also announced on the official website of the FSC®. This is an additional benefit for you, because manufacturers, users or consumers are using these sites to research FSC® certified forestry businesses and companies along the product chain.
The Way to Your Competitive Advantage – Three Steps to Your FSC® Certificate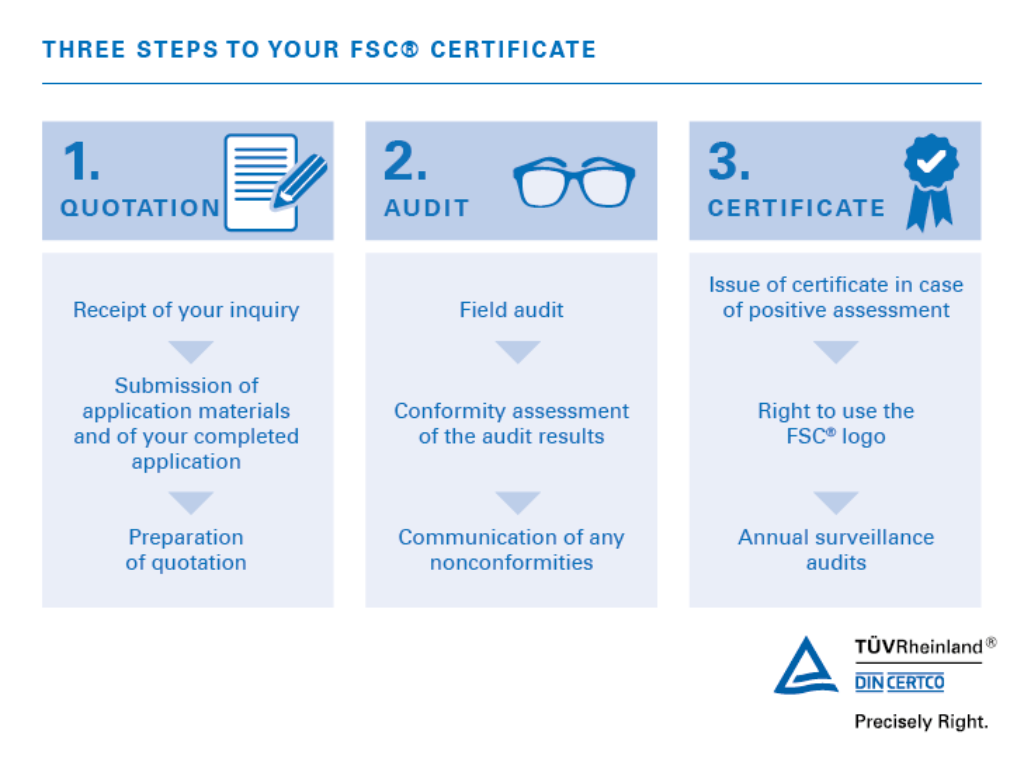 The FSC® rules and regulations in combination with our certification program form the basis for your FSC® Certification. Depending on the type and origin of your products and the number of locations to be certified, different FSC® standards apply. The FSC® Certification process has the following three steps:
Quotation Phase
You contact our experts and we will send you all relevant application materials and any additional information needed for a FSC® Certification. After you returned to us the completed questionnaire (PDF, 337 KB) and provided all relevant basic information, we will prepare an individual quotation for your FSC® Certification. You will then send the signed quotation back to us, including application form and license agreement.
On-site Audits
Our expert auditors conduct audits on location at your company sites to assess for instance whether an intermixing of certified and non-certified wood can be ruled out and to identify any weak points. Audits include talks with the Executive Management and employees to establish conformity with the requirements of the applicable FSC® standards.
Conformity Assessment and Certificate
All audit results will be provided to you in a conformity assessment, where we also inform you of any non-conformities. After a positive assessment, you will receive your FSC® certificate and the right to use the registered FSC® logo. Subsequent annual surveillance audits will ensure the continuous improvement of your processes.
Special contact for customers located in China, HongKong and Taiwan
DIN CERTCO established a cooperation with TUV Rheinland in order to provide local support to customers located in China, Hong Kong and Taiwan.
The support is provided by our local contact person, Ms. Ada Wang.
In case you do not wish support by our local partner, please let us know when applying for certification.
Obtain a FSC® Certification for Your Company
With an easy and transparent certification process, the DIN CERTCO experts are your partner for a successful FSC® Certification. Our 40 years experience in the certification business and a large network of seasoned experts will give you the expertise needed for your professional FSC® Certification.
Demonstrate and document sustainability and environmental awareness the registered FSC® logo. Contact us for your custom quotation now.
Stakeholder Consultation
DIN CERTCO - Stakeholder Consultation for FSC Controlled Wood.
According to the requirements of FSC-STD-20-011 V4-2 Certification Bodies are obliged to perform Stakeholder Consultation of the FSC Controlled Wood process.
What is Controlled Wood?
FSC Controlled Wood is material from acceptable sources that can be mixed with FSC-certified material in products that carry the FSC Mix label. For that, five categories are defined as unacceptable material which is not allowed for mixing with FSC certified material:
illegally harvested wood
wood harvested in violation of traditional and human rights
wood harvested in forests in which high conservation values (HCVs) are threatened by management activities (HCVs are areas particularly worthy of protection)
wood harvested in forests being converted to plantations or non-forest use
wood from forests in which genetically modified trees are planted
The Due Diligence System (DDS)
Organizations which apply for FSC Controlled Wood material have to implement a Due Diligence System. This should minimize the risk of harvesting material from unacceptable sources. The main elements of such DDS are obtaining information, risk designation and risk mitigation (if there). The DDS considering the origin of the material and supply chain as different perspectives of risks.
What can stakeholders do?
Stakeholders can participate in the process and dialog of FSC Controlled Wood with their input aiming to verify an effective DDS of the organization and to adequate risk mitigations.
Please write your comments to:
DIN CERTCO Gesellschaft für Konformitätsbewertung mbH
Alboinstrasse 56
12103 Berlin
GERMANY
E-Mail: service-forst@dincertco.de
Name
FSC Certificate Number
Risk Assessment
Pfleiderer Deutschland GmbH
Ingolstädter Straße 51
92318
Neumark - Germanyn
TUVDC-COC-101049
TUVDC-CW-101049.
Poland, Czech Republic, Netherlands
Pollmeier Massivholz GmbH & Co.KG
Pferdsdorfer Weg 6
99831
Creuzburg - Germany
TUVDC-COC-100841
TUVDC-CW-100841
Poland, Czech Republic, Netherlands
The German Ecolabel
When you use products or services that carry the Blue Angel ecolabel, you can be sure you are doing something good for yourself, the environment and our future. The Blue Angel is the environmental label issued by the Federal Government for the protection of people and the environment. Thus, the Blue Angel provides an important guide to the end user. And for manufacturers, the broad acceptance of the Blue Angel represents a significant advantage when marketing their products. Because with the Blue Angel, manufacturers can document the sustainable use of resources, which has an impact both on the product sales and on the company image.
As an accredited FSC® Certification Body, DIN CERTCO can provide support with obtaining a Blue Angel certification in the following areas:
This is possible because the audits required for your certification are conducted by auditors who are recognized by DIN CERTCO in the area of FSC®.
Using combination options for additional certifications
Through auditing by DIN CERTCO followed by a Blue Angel certification by RAL gGmbH, DIN CERTCO can offer additional sustainability certifications. Save time and money – for example by having the sourcing of recycled material audited and certified according to FSC® and/or PEFC.
Because DIN CERTCO operates in the field of both FSC® and PEFC, we can offer so-called combination audits with certifications according to FSC® and/or PEFC regulations. This can save you time and money because the auditor will need to visit you only once.
The path to the audit according to the Blue Angel requirements
Please start your certification process for the Blue Angel ecolabel here.
Please coordinate the required tests etc. with RAL.
At the same time, please also contact DIN CERTCO for preparing a quotation and for coordinating the combination audit.
General FAQ about the Forest Stewardship Council FSC
FAQ about Our FSC® CoC Certification Service
Important Documents for Your FSC® Certification
| | | | |
| --- | --- | --- | --- |
| pdf | Application for FSC trademark use | 118 KB | Download |
| pdf | Application Form FSC® FM for Group-/Multi-Site Certification | 1 MB | Download |
| pdf | Application Form FSC® FM for Single-Site Certification | 1 MB | Download |
| pdf | Application Form FSC® CoC for Group-/Multi-Site Certification | 242 KB | Download |
| pdf | Application Form FSC® CoC for Single-Site Certification | 623 KB | Download |
| pdf | Application Form FSC® CoC for Group-/Multi-Site Certification (Chinese Version) | 423 KB | Download |
| pdf | Application Form FSC® CoC for Single-Site Certification (Chinese Version) | 932 KB | Download |
| pdf | FSC® CoC certification scheme | 272 KB | Download |
| pdf | Questionnaire quotation FSC® CoC | 282 KB | Download |
| pdf | Questionaire Quotation FSC® FM for Group-/Multi-Site Certification | 1 MB | Download |
| pdf | Questionaire Quotation FSC® FM for Single-Site Certification | 1 MB | Download |
| pdf | Questionaire Quotation FSC® CoC for Group-/Multi-Site Certification | 242 KB | Download |
| pdf | Questionaire Quotation FSC® CoC for Single-Site Certification | 623 KB | Download |
| pdf | Flyer FSC | 515 KB | Download |
| pdf | Generic Standard FSC | 591 KB | Download |
| pdf | Questionaire Quotation FSC® CoC for Group-/Multi-Site Certification (Chinese Version) | 423 KB | Download |
| pdf | Questionaire Quotation FSC® CoC for single site Certification (Chinese Version) | 932 KB | Download |
| pdf | Complaints Procedure with regard to FSC ® | 1 MB | Download |
| pdf | Selfdeclaration Turnover | 83 KB | Download |
| pdf | FSC CoC Core Labour Requirements Self-Assessment Template | 192 KB | Download |