Demonstrate consistent high product quality with our certification for wood pellets
Wood pellets are considered a 100 percent CO2-neutral fuel and contribute considerably towards a reduction in CO2 emissions. They have developed into a real alternative to heating oil and natural gas. Thanks to these positive properties, both wood pellets and pellet boilers have spread continuously.
Our "DINplus for wood pellets" certification in line with international standards allows you to stand out from the competition and provide proof that your wood pellets are consistently of high quality. The DINplus quality mark strengthens your customers' trust in you, allowing you to meet the rising demand for certified wood pellets and thereby improve your market position.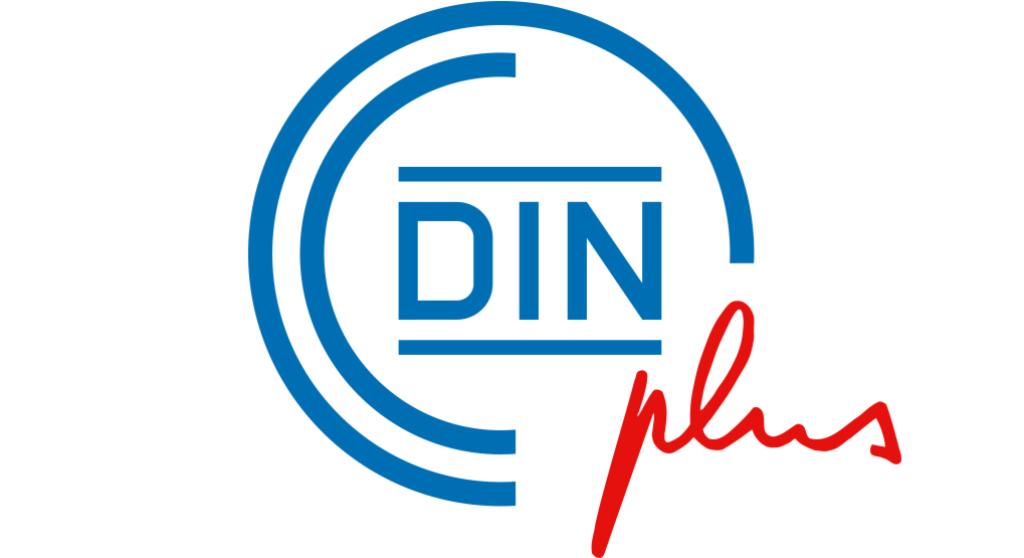 Our DIN plus mark and its message of quality are established worldwide, recognized by specialists, and enjoy the confidence of consumers. Our experts have extensive experience in the industry and cooperate with qualified testing laboratories when assessing your products.
Do you want to know more about our certification for wood pellets? Contact us for more information!
Improve customer confidence through sustainable wood pellets
Prove the high quality of your wood pellets with our certificate to secure the confidence of your customers and an excellent position in the market. Our DINplus certification program ensures that wood pellets emit minimal pollution for high fuel values, and help avoid malfunctions in pellet boilers. Our certification provides your customers with a decision-making aid and guide in a growing market.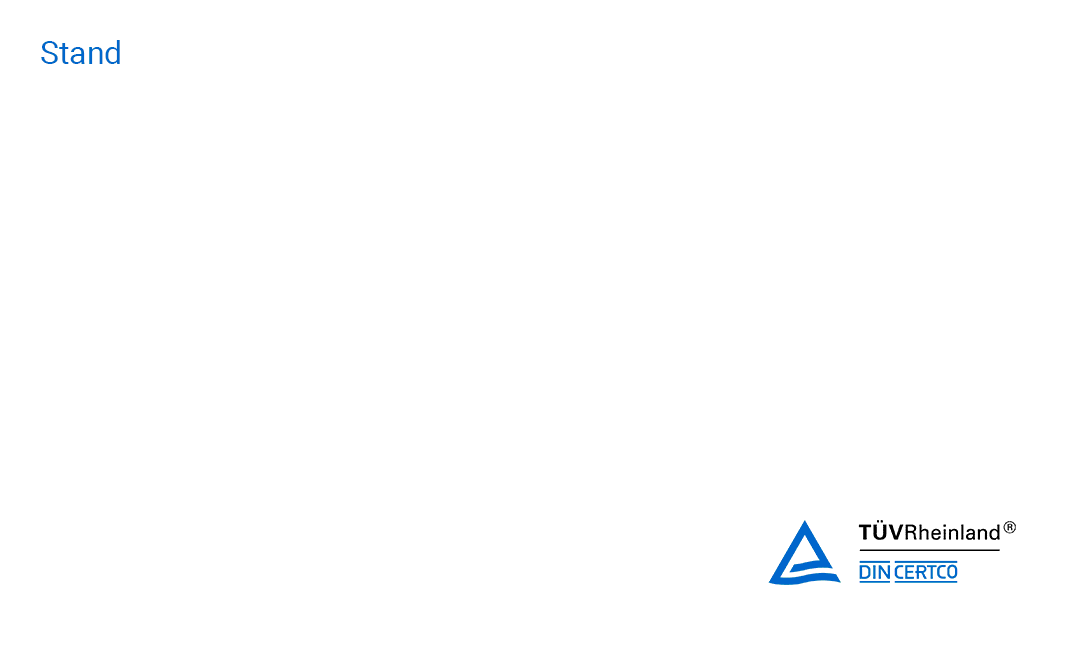 Our services for the testing and certification of your wood pellets
International standard for wood pellets:
DIN EN ISO 17225-2 (A1) - Solid biofuels - Fuel specifications and classes - Part 2: Graded wood pellets
Part of the European standard for quality assurance in the wood pellet supply chain:
DIN EN 15234-2 - Solid biofuels - Fuel quality assurance - Part 2: Wood pellets for nonindustrial use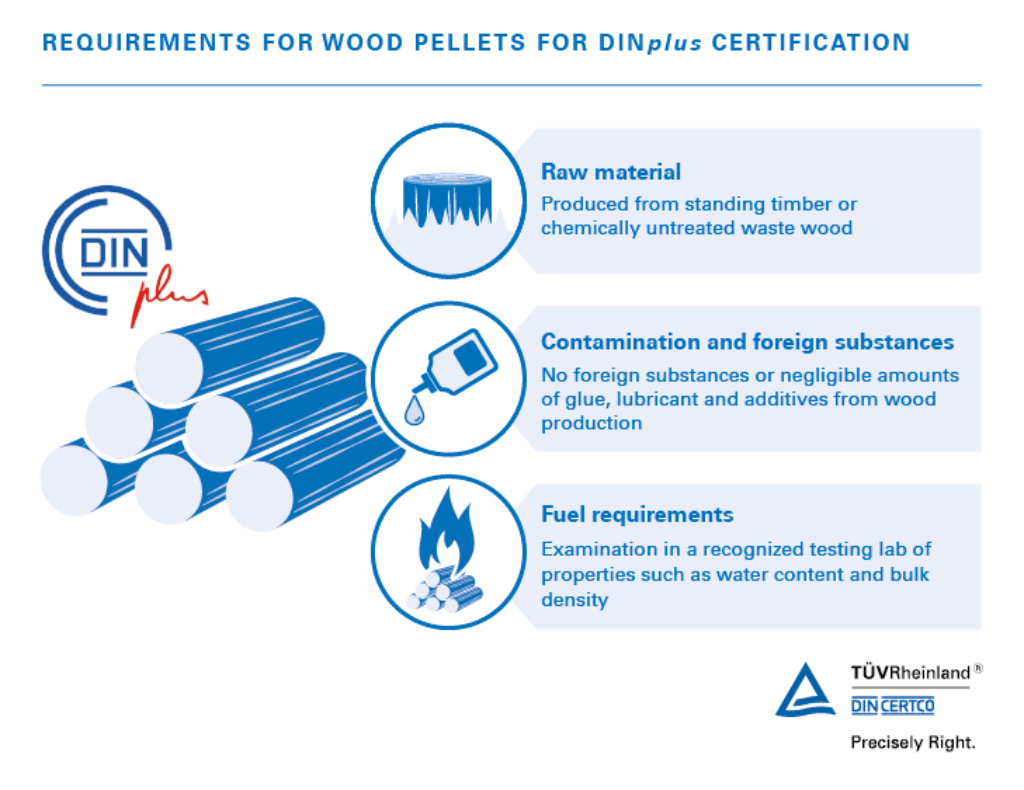 Our testing and certification for wood pellets ensures, among other things, high quality levels in the production of wood pellets. We test products in qualified and recognized testing laboratories. Some of the tested properties are:
Water content
Bulk density
Mechanical strength
Chemical contamination
In addition, we also determine what is referred to as the ash melting temperature. This temperature is important in estimating the tendency to generate slag.
A certificate is awarded if the result of the evaluation is positive. It is valid for five years and can then be extended by five years at a time.
DINplus wood pellets – recognition for manufacturers and consumers
By developing quality standards and marks we have become a reliable companion to the pellet industry. DINplus certification is trusted by sellers and manufacturers of wood pellets not only in central Europe, but wherever high-quality wood pellets are purchased.
Our aim is to test and certify product quality at all stages of the process chain. To implement this holistic approach, we will assist you with extensive services for the wood pellet and fuel industry.
Find out about our wood pellet certification now! Contact us.
The most important questions and answers about wood pellet certification
Do you want to know more about our wood pellet testing and certification services? We have compiled the most frequently asked questions for you below.
You have another question? Contact one of our experts now – we are happy to help.
Application for certification
| | | | |
| --- | --- | --- | --- |
| pdf | Application form Products | 118 KB | Download |
| pdf | Application form for Sub-Licence | 81 KB | Download |
| pdf | Certification Scheme Wood Pellets (Spanish Version) | 523 KB | Download |
| pdf | Programme des Certification (French Version) | 401 KB | Download |
| pdf | Schedule of Fees Wood Pellets | 284 KB | Download |
| pdf | Checklist certification wood pellets | 178 KB | Download |
| pdf | General Terms and Conditions | 326 KB | Download |
More about wood pellets
| | | | |
| --- | --- | --- | --- |
| pdf | FAQ certification wood pellets | 371 KB | Download |
| pdf | Leaflet wood pellets for identyfication of packing | 51 KB | Download |
| pdf | Leaflet for Retailer Wood Pellets | 60 KB | Download |
| pdf | Leaflet for Retailers (Italian Version) | 60 KB | Download |
| pdf | Flyer Pellets | 212 KB | Download |
| pdf | Flyer Wood Pellets for Consumers | 1 MB | Download |