Oxygen-tight according to DIN 4726 (sauerstoffdicht nach DIN 4726)
Copper or steel pipes have been used predominantly in the past in heating technology. The sector has since learnt to appreciate the benefits of plastic piping systems. Light weight and high flexibility ensure simple and fast laying.
This is why plastic pipes are used mainly when laying underfloor heating in Germany. There are also a variety of systems available for the application as radiator connecting pipes. The following materials are used:
Polypropylene (PP)
Crosslinked polyethylene (PE-X)
Polybutylene (PB)
Polyethylene with higher temperature resistance (PE-RT)
Chlorinated polyvinyl chloride (PVC-C)
Medium density crosslinked polyethylene (PE-MDX)
Multilayer piping systems
As oxygen entering the heating system can result in problems with corrosion to the iron parts (heating boiler, radiators) and therefore has a significant impact upon the life of the system, all the plastic pipe systems have to be oxygen-tight according to DIN 4726.
Cofidence is good - DIN-Geprüft is better!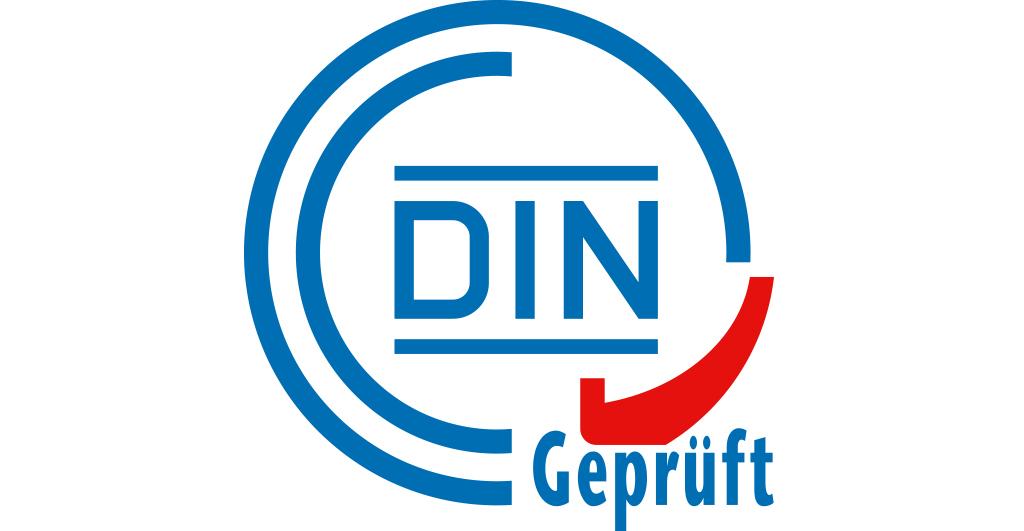 With the accredited and independent certification mark "DIN-Geprüft", DIN CERTCO enables the manufacturer and retailer to convince their customers of the quality of their products and provide the customer with assistance in his purchase decision; as our mark stands world-wide for confidence.
Basis of Testing
The DIN CERTCO certification scheme "Plastic piping and multilayer piping systems for warm water floor heating and radiator connecting systems" is the basis on which the mark is awarded. The scheme is based on the following standards:
As well as on the following mentioned standards specific for material:
Polypropylene pipes (PP)
Crosslinked polyethylene pipes (PE-X)
Polybutene pipes (PB)
Polyethylene of raised temperature resistance pipes (PE-RT)
Chlorinated polyvinyl chloride pipes (PVC-C)
Crosslinked medium density polyethylene pipes (PE-MDX)
Multi-layer composite pipes
Testing and Certification
The "DIN-Geprüft" mark is only granted to those piping systems and oxygen barrier materials that are able to prove that they comply with the standards by completing a successful test in a testing laboratory recognised by DIN CERTCO and a subsequent independent assessment.
After a positive assessment, DIN CERTCO issues a certificate that is valid for 5 years. The registration number that clearly identifies the certificate is made up as follows: 3V000.
A half-yearly verification test of the product (pipe and fitting) as well as the factory production control (FPC) of the manufacturer follows. The pipes of certified distributors are only subjected to a reduced testing scope.
FAQ - Frequently Asked Questions
| | | | |
| --- | --- | --- | --- |
| pdf | Application Form for the Certification of Products | 118 KB | Download |
| pdf | Certifiation Scheme "Plastic piping and multilayer piping systems for warm water floor heating and radiator connecting systems" | 1 MB | Download |
| pdf | Schedule of Fees | 271 KB | Download |
| pdf | Decision Guide (only available in German) | 597 KB | Download |
| pdf | Brochure Certification of Heating an Airconditioning Products | 480 KB | Download |
| pdf | General Terms and Conditions | 327 KB | Download |
Certificate holder and testing laboratories
These topics may also be of interest to you.