Sleep like a dream with Traumpass
For over 30 years the association Traumpass e.V. (formerly Kontrollgemeinschaft Federnsiegel e.V.) has awarded the "Traumpass" feather label of approval. For both retailers and consumers this label stands for controlled quality of the bedding character marked with it. The later extension of "Traumpass" to include the internationally recognised and neutral "DIN-Geprüft" certification mark again boosted confidence in the products.
Test standards: Standard for bedding
The basis for testing down and feather filled bedding articles is the European standard
DIN EN 12934, "Feather and down - Composition labelling of processed feathers and down for use as sole filling material",
which was created on the initiative of the Consumer Rights Protection Council of the European Commission. To maintain the high quality of the bedding articles, however, only such products as comply with the highest classification (Class I and Class II with a maximum of 10% of other elements) as per DIN EN 12934 may be marked with the "Traumpass - DIN-Geprüft" mark.
In addition, the revision of the certification scheme saw the inclusion of requirements for animal protection, in conformity with animal protection law in the EU. For products with the "Traumpass - DIN-Geprüft" mark, certificate holders undertake to use only materials that do not come from living animals (live plucking). This additionally needs to be verified in the companies by a system of traceable goods flows accompanied by regular inspections. During on-site inspections, the existing goods flows are documented and verified.
Testing and certification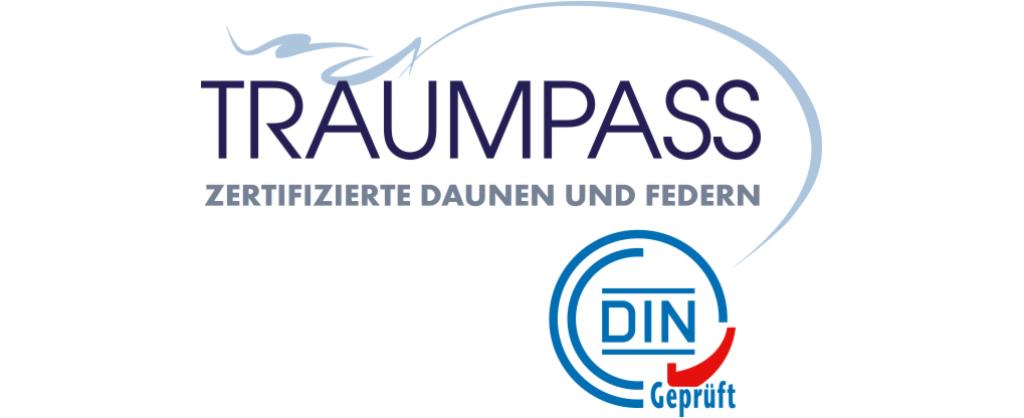 To receive the "Traumpass - DIN-Geprüft" mark, down or feather filled bedding articles must demonstrate its conformity with DIN EN 12934 and the extended requirements of the certification scheme by passing a test and insepction. Following positive assessment, DIN CERTCO issues a certificate that is valid for two years.
Compliance with all quality requirements is monitored regularly. For example, randomly selected products are tested by recognised testing laboratories for conformity with the standard. Infringements against the certification scheme are also punishable by severe fines and, if necessary, by withdrawal of the mark of approval.
Bedding articles with the "Traumpass - DIN-Geprüft" mark stand for products with high quality down or feathers - a piece of nature for dreaming.